2017-2018 ABWC SCHOLARSHIP PROGRAM
For the applicant's convenience, please click on the link below to access
the Apollo Beach Woman's Club Scholarship 2017-2018 applications with criteria.
The ABWC High School Graduating Senior scholarship application is for students living in Apollo Beach - zip code 33572.
a. The deadline has been set by East Bay and Lennard High School's college and career counselors.
The application must be returned to your school counselor.
b. If you are a graduating senior living in Apollo Beach - 33572, but not attending either high
school, please email the ABWC Chair stating your intention to apply.The application submission must
be postmarked no later than March 9th to the Committee Chair.
The funds available are solely determined by the yearly fundraisers and donations. The scholarship funds available are determined at the April Board Meeting.
2017-2018 ABWC Scholarship Awards $1,500 if attending an accredited 4yr FL college or university $700 if attending HCC (2 year degree) or accredited Hillsborough County technical school certifications Contact: Jeanette Doyle, Committee Chair apollobeach5@gmail.com Refer to the criteria page for more contact info.
apollo_beach_womans_club_graduate_student_scholarship_application___criteria_2017-18.pdf
File Size:
643 kb
File Type:
pdf
Download File
---
2016-2017 Scholarship Award Winners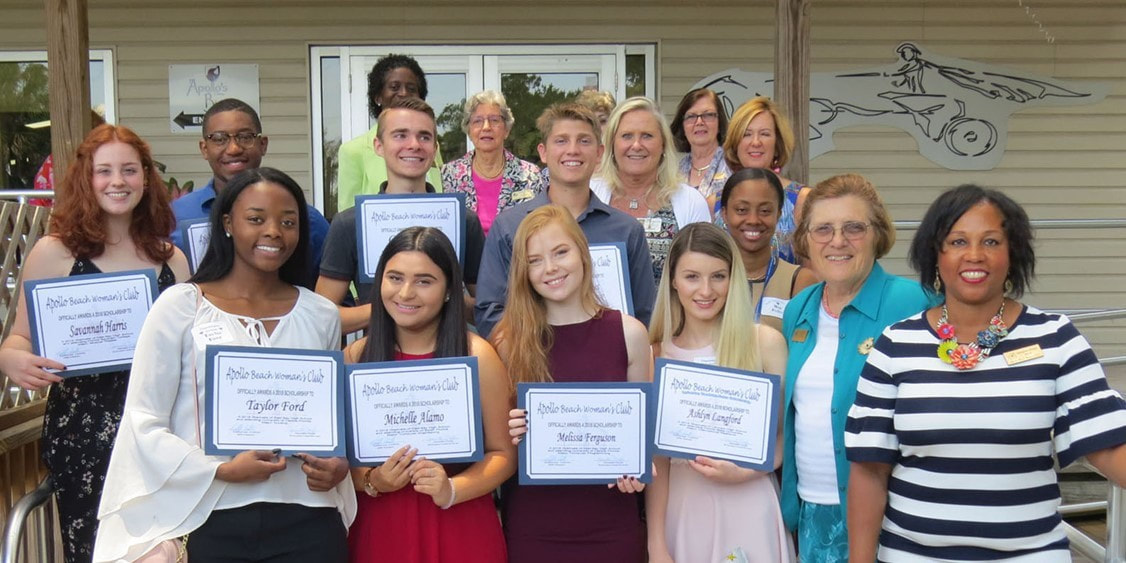 ---

ABWC Scholarship Recipients and supporting ABWC Club members:
L-R Back Row: Toby Loukmas (East Bay High school College and Career Counselor); Marlene Sword (parent); Jeanette Doyle, ABWC Scholarship Committee Chair; Pat McChesney (scholarship committee); Brenda Fricks
(scholarship committee); Sharon Vazquez (scholarship committee); Stephanie Betz (ABWC Club President); & Pat Wilson (scholarship committee)
L-R Front Row ABWC Scholarship Recipients: Hanna Gottman (Durant - UCF);
Sydney Hostelley (East Bay -Salutatorian - USF), Aaron Nelson (Lennard - UCF); Sara Hostelley (East Bay - USF), John Paul Collins (Jesuit - FSU); Courtney Burnette (East Bay - UCF); Doug Williams (East Bay - FAU), Natalie
E. Behen (Lennard - HCC) Absent from photo: Mindy Edgeman (Lennard High School College and Career counselor) Nancy Turco and Mary Haggard (Scholarship Committee)

Apollo Beach Woman's Club awarded $11,200 in college scholarships to eight 2017 High School Graduates from East Bay, Lennard, Durant and Jesuit. Seven recipients, attending a 4 year university, received a $1,500 college
scholarship and one recipient, attending HCC - 2 year degree program, received a $700 at our 2017 May Apollo Beach Woman's Club Luncheon held at the Apollo Bistro.